Ceramic Coating for Motorcycles
Motorcycles can quickly rack up considerable mileage, with daily rides and commutes, and weekend trips on the open road. All this can exposure to the sun, road, and environmental elements can translate to wear and tear on your paint job and finish. To protect the beauty of your motorcycle, you need a ceramic coating to shield your ride. A ceramic coating from the experts at Bob Moses Ceramic Coating will ensure that your motorcycle stays looking beautiful and new for years.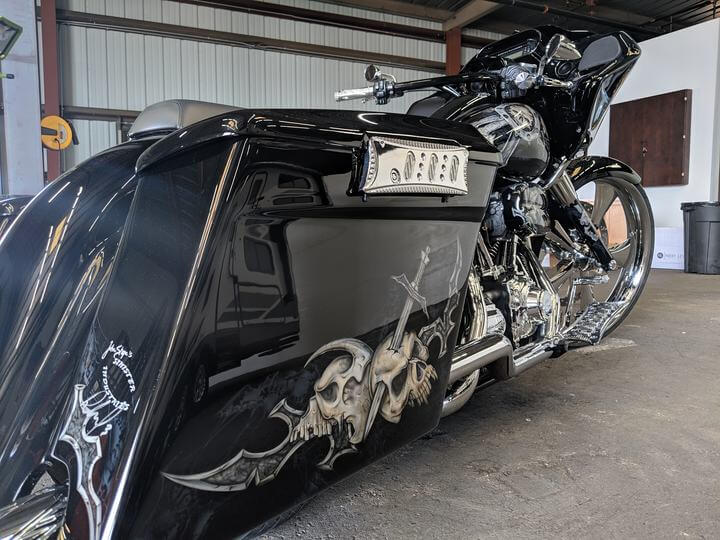 What is Ceramic Coating?
Ceramic coatings are a type of clear, paint treatment that we apply in liquid form to the exterior of your motorcycle. It will bind with the clearcoat present, and create a tiny layer that acts as a barrier, keeping your paint looking fresh and glossy while also protecting it from the elements.
For motorcycle ceramic coatings, Bob Moses Ceramic Coating proudly utilizes Sensha World Crystal Glow, which comes in an 8-year coating. Sensha Crystal Glow is designed and tested by Sensha to shield your vehicle from elements and contaminants for the duration of the year rating, with proper maintenance.
Why Should Motorcycle Owners Invest in Motorbike Coatings?
A Sensha Crystal Glow ceramic coating is the perfect choice for motorcycle owners that are looking for a proven method of protecting their motorcycle's paint job with a durable, protective layer to shield it from the hazards of the open road.
Our auto ceramic coating penetrates the pores of your gel coat and adheres to the surface, providing lasting protection, as well as a beautiful shine that will outlast typical wax applications. We provide worry-free ownership for every motorcycle owner that passes through our doors.
Benefits of Our Ceramic Coating on Motorcycles
The Sensha Crystal Glow ceramic coating will offer various benefits to motorcycle in addition to providing durability and protection for your paint job, including:
Reduced Time Spent on Maintenance
Maintenance times and costs are drastically reduced because there is no need for waxing, and cleaning is a breeze. All you need are a hand towel and some clean water, and you will be able to wipe away any mess on your motorcycle. Sensha Crystal Glow creates a hydrophobic layer that repels water, mud, gasoline, and other liquids that could otherwise soak into your paint and eat away at it.
Increased Sun Protection
Sensha Crystal Glow is suspended in a liquid solution of PTFE, which hardens into a UV-reflective layer that will protect your motorcycle. Ultraviolet rays are reflected away from the paint, offering long-term protection against sun damage and oxidation.
Comprehensive Shielding
With your motorcycle, it is never one thing that is posing a threat to the paint and finish on the body. Sun exposure, dirt and dust, rain, bird droppings, the occasional boot scuff, everything combines to scratch and eat away the layers of paint. With a ceramic coating, your motorcycle will repel the elements, random scratches, and anything else that could damage your paint with ease.
The Perfect Finish
Here at Bob Moses Ceramic Coating, we know that the look of your motorcycle is extremely important part of who you are, which is why we want to help you protect it. With a Sensha Crystal Glow ceramic coating, the hardness of the coating will create a perfect layer of protection and shine. This results in a gloss and color rejuvenation — it restores color and glosses 35 percent more effectively than typical waxing techniques.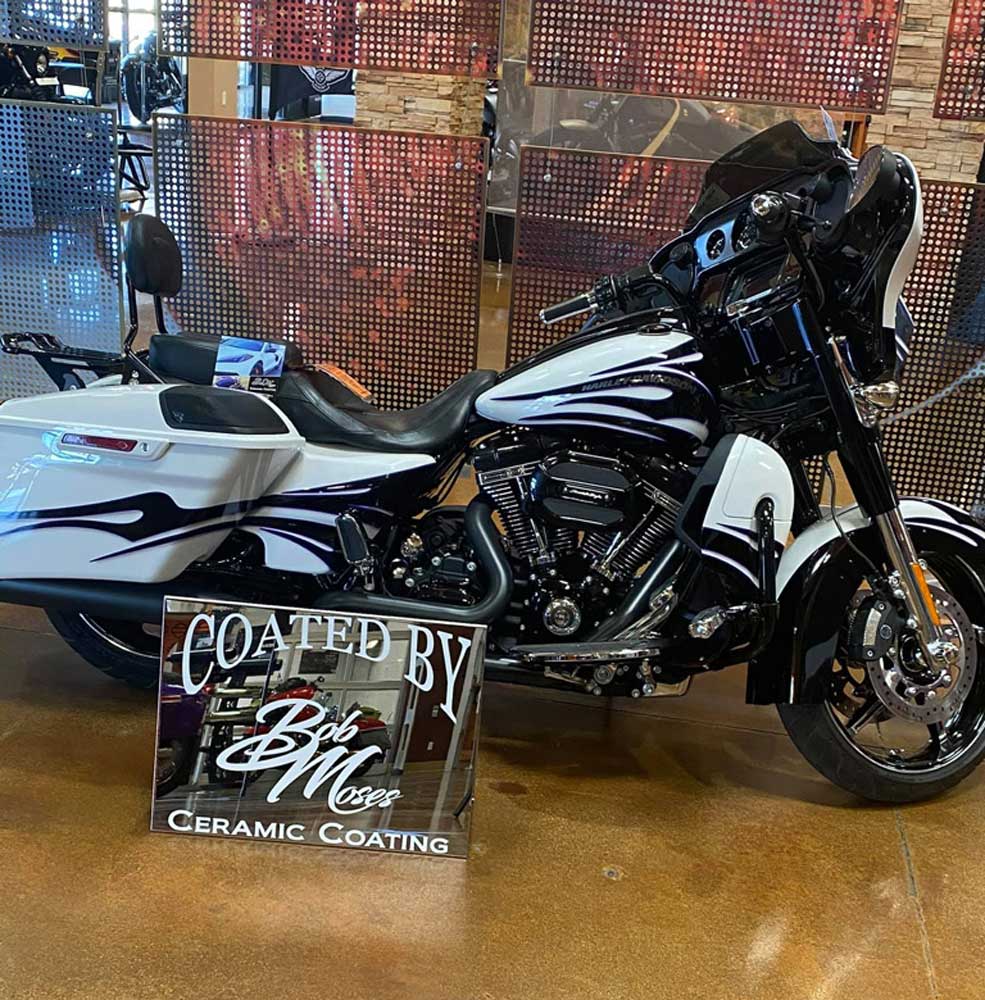 Is Ceramic Coating Right for my Motorcycle?
With proper maintenance, a Sensha SiO2 glass coating can last up to eight years. Sensha observed that environmental factors play a small role in the coating's life as well. For example, areas with less dust and chemicals keep the coating on longer.
Your motorcycle is not only an investment, but also a key part of your identity. If you are looking for a way to protect the finish and paint job of your motorcycle, a ceramic coating from Bob Moses Ceramic Coating is a great method to protect it.
If you have a custom paint job, this is especially true, and a ceramic coating will ensure that your motorcycle stays looking the way you intend. Are you ready to have a shiny, beautiful motorcycle that turns heads when you ride by? Try a ceramic coating today.
If you are interested in whether a ceramic coating is the right call for your motorcycle, contact us today to speak with one of our representatives.
What Guarantees Does Bob Moses Ceramic Coating Offer?
Bob Moses Ceramic Coating can offer a limited-service contract for the 8-year Sensha Crystal Glow ceramic coating. At the maximum, this service-contract can be given for 8 years on a motorcycle that has been ceramic coated by a Bob Moses Ceramic Coating franchise. This contract may be reduced in length or removed, depending on the limitations of your motorcycle, due to damage or the condition of the exterior.
If you have questions, or would like to learn more about the limitations of our service contracts, contact Bob Moses Ceramic Coating today to speak with a representative.
Contact Bob Moses Ceramic Coating to Learn More
Bob Moses Ceramic coating is a leading company ceramic coatings for motorcycles. We are the only provider of Sensha Crystal Glow ceramic coatings in the United States, and believe in their solutions ability to protect your motorcycle for years to come.
We strive to provide our clients with an exquisite customer service experience, and our staff is dedicated to providing you with professional and knowledgeable service. To speak with a Bob Moses Ceramic Coating representative, contact your nearest location, or fill out our contact form an we will respond to you promptly.