Tesla Ceramic Coatings
You love seeing your beautiful Tesla sitting in the driveway, but you really love all the appreciative looks you get when you drive it on the street. There's no denying that Teslas command attention wherever they are, so you want to make sure you keep it in tip-top shape, from bumper to bumper, inside, and especially out. How your Tesla looks is everything because that's the first thing people are going to see. Unfortunately, it is now a well-known fact that although Tesla does so many things great with the production of the vehicle, the paint is not one of them. Known for their paint flaws, especially when brand new, immediately calls the need for protection. Commonly you can expect within two or three years, the color will fade, and the clear coat will wear thin. If you are living in areas with harsh weather like Arizona, Florida, or Nevada, it's even worse. High temperatures and a very dry or very humid environment will rapidly increase the rate this degradation occurs. The good news is you can keep your Tesla's paint job looking fantastic. Ceramic coating for Teslas will keep your car looking better than new.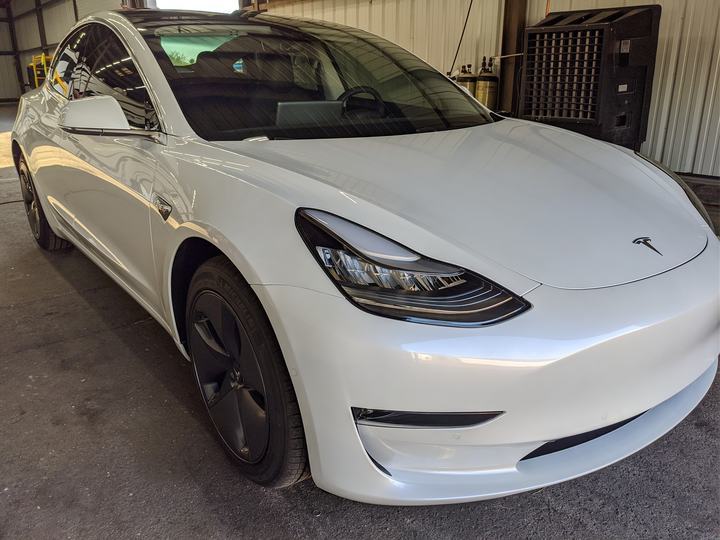 Is Ceramic Coating Good for Cars?
In a word, yes. Ceramic coating provides optimal protection for your Tesla's exterior painted surface. It protects your vehicle from high heat weather, harsh weather, chemical contaminants, and dirt.
What's more, it does not damage the original paint in any way. It binds to it, creating a stronger, longer lasting exterior surface, while enhancing the color.
There are other ways that ceramic coating is beneficial though. Read on to find out.
What are the Benefits of Ceramic Coating for Your Tesla?
Not only does the ceramic coating protect your car from the elements, but it also makes the car easier to clean.
Because car ceramic coatings are so intensely hydrophobic, dirt and dust are quickly removed with a short spray of water. The water rapidly absorbs the dust and dirt and rolls right off the vehicle. When dirt or dust adheres to the surface, a quick spray down will restore your Tesla's radiant finish.
You also attain the great shine that you get with waxing your car, but without the temporary status that requires you to reapply the wax every so often. The ceramic coating gives a better finish and has a much longer life than waxing. You just can't beat it.
In the long run, these benefits make ceramic coating a wise investment for your Tesla.
Should I Get Ceramic Coatings for Tesla?
A long-lasting coating is not a DIY Project and is definitely best left to a professional if you are looking for a one-time application. The process requires many man hours with maximum efficiency and involves too many risks for possible contamination and flaw. You can use an easy to apply spray ceramic, but even still you are paying for a glorified wax because the vehicle was not prepped properly. If you don't want to deal with the hassle, hire a professional who will care for your car as if it's their own, so you can ensure that the job will be done right.
How Long Does Ceramic Coating Last on a Car?
When your get ceramic coating for your Tesla, it is applied to the car's entire body. The polymer that is mixed in the product forms a chemical bond with your Tesla's paint, plastics, metals, and glass. Once it is coated, the only way you can remove it is by using some type of abrasion technique.
Natural wear and tear will eventually degrade the ceramic coating, but this process will take years to occur assuming proper maintenance. If the ceramic coating is applied correctly, it will last for years. In many cases, it lasts for the lifetime of the car.
What is the Best Ceramic Coating for Tesla Models?
The best ceramic coating for a Tesla is Sensha World Crystal Glow. No matter what Tesla model you are ceramic coating – or any other vehicle for that matter, you can rest assured you will get the best possible results with the most caring crew backing up that product and protecting your interests as the consumer.
Want to keep your Tesla looking like new? You can trust Bob Moses Ceramic Coating for your Tesla or any of your other cars. Get a quote today and get started. Don't give your Tesla's paint job over to the elements or other dangers for another minute. Contact us and get her ceramic coated today.