Porsche Ceramic Coatings
Nothing beats the showroom shine of a brand-new Porsche. If you're like most Porsche owners, you want to keep it that way.
However, the elements like sunlight, rain, and snow can take a toll on a paint job, as will harsh contaminants in the environment. Even washing your car regularly can dull that shine and fade the paint.
This often leads to using paint protectants like waxes which are effective, but for a very short term. Within three months it's time to apply the product again if in a lower temperature area.
Ceramic coating for your Porsche is an innovative solution that provides a brilliant shine and years of worry-free protection.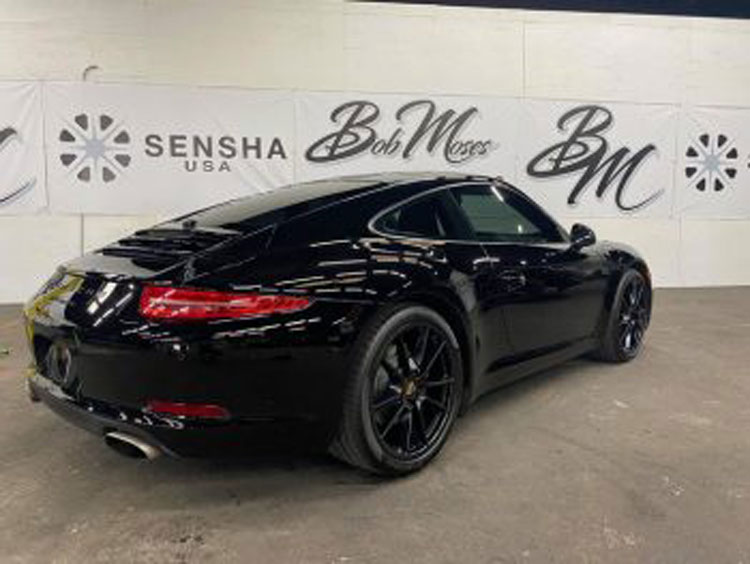 What is Porsche Nano Ceramic Coating?
At Bob Moses Ceramic Coating we exclusively use Sensha World Crystal Glow 8-Year Coating. It provides a long-lasting, durable, high gloss finish to a vehicle's surface. If you want your Porsche to have an exterior surface like glass, this is the material you want protecting it. SiO2, silicon dioxide, nanotechnology is the basis for the best ceramic coating for cars. It is a branch of science that works with tiny particles that are 1 billionth of a meter or smaller. Silicon dioxide, naturally occurring as quartz, is a key component in the nano-ceramic coating process. It bonds chemically with the vehicle's surface, filling in tiny gaps and holes in the clear coat to not only make the surface smooth as glass but also to protect it for years to come.
Ceramic Coating vs. Sealant
The truth is, not all cars – or owners – are cut out for ceramic coating.
So, what type of vehicle and owner are a great fit for ceramic coating? If you answer yes to any of the following questions, then ceramic coating is a good fit for you and your Porsche.
Do you enjoy having a clean car?
Do you prefer simple and easy maintenance for your car?
Do you distrust others cleaning your car?
Do you despise waxing your own car?
Is your time spent better, than wasting time waxing or washing?
Do you worry about your car's paint fading out?
Do you enjoy receiving stares at your car while driving down the road?
Would you rather coat your car once every several years instead of waxing it several times a year?
Are Coatings for Porsche Good?
Ceramic coating is good for your Porsche because the surface needs protection from environmental contaminants, pollution, and extreme weather like direct, intense sunlight, snow, ice, or high winds. The beauty of the ceramic coating is not just in the high gloss and shine, but in its effective ability to prevent UV damage and aid in the protection of environmental damage through its extreme hydrophobic properties.
Porsches on average are cars that are kept by their owners for long periods of time, so give it a protective treatment like ceramic coating that lasts just as long as the ownership. Sum up the length of the ceramic coating bond, educated maintenance, and a company with the highest level of customer service and the investment of the ceramic coating turns invaluable. This translates to significant savings in the long run because you don't need to detail the exterior of your vehicle anymore to shine it back up. In addition, the relationship developed will save costs as Bob Moses will back up its product and application for the length of time agreed to at the point of sale.
Get a Quote for Your Porsche Ceramic Coating
Are you ready to give your Porsche a long-lasting, high gloss finish that will keep it looking great for years? If so, give Bob Moses Ceramic Coating a call and get your free custom quote. We'll assess your car's condition and discuss with you what you expect from the ceramic coating as well as what benefits you will get.
When you schedule your car for ceramic coating, we will treat it as if it was our own car, taking great care to give you the results you want. Contact us today to get started.