Toyota Ceramic Coatings
Auto ceramic coating is somewhat similar to car wax except it is harder, more durable, shinier, and a lot longer lasting. Sounds like a pretty good deal, right? Toyota Ceramic CoatingsActually, when you compute the costs both financially and in elbow grease, ceramic coating is pretty cost-effective. In the long run, you can save a bundle when you go with the coating because you aren't waxing your car every few months. All you have to do is wash it every couple of weeks and wipe it off when it gets dirty and you're good to go – for years. Ceramic coating for cars is a polymer liquid that is applied by hand to the exterior surface of the car. It bonds to the car's paint, forming a protective coating that is scratch-resistant, hydrophobic, repels dirt and dust, and provides a high gloss shine. Think that ceramic coating might be right for your Toyota? Read on!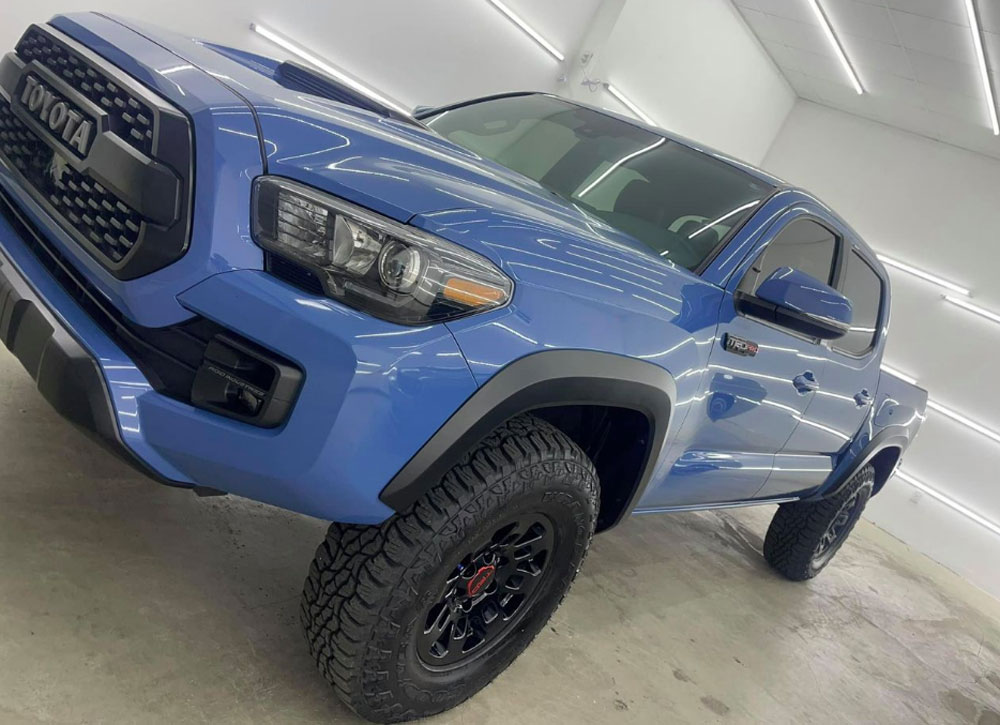 What Happens When You Leave Your Toyota's Paint Unprotected?
When you first buy your Toyota, you are probably wowed by how shiny and perfect the paint job is. Over time though, that beauty fades if you leave it unprotected.
What happens when you leave your car's paint job without protection? Let's take a look.
Right off the lot
From the moment you drive your car off the lot, the paint begins to deteriorate if it isn't protected. UV rays, pollution, acid rain, road debris, and harsh weather all cause the paint to oxidize and fade. Dirt and grime start adhering to the car's surface, finding its way into the crevices and getting trapped there.
After 1 Year
After one year without paint protection, the paint has begun to actively oxidize, fading and bleaching out in spots. The grime that was caught in the crevices and low spots has settled in and can only be removed by actually cutting into the polish. This would effectively remove at least a layer of paint, probably more. Your car is quickly becoming a good candidate for some serious paint work – probably a completely new paint job.
So, what happens when you invest in ceramic coating for your Toyota? You might be surprised.Five years after you've coated your Toyota your paint still looks great. Because you got the coating as soon as you drove your car off the lot, it has provided exceptional protection from that day on. There's no fading, no bleaching, no oxidation, and the grime never had a chance to accumulate anywhere, much less in your polish, clear coat, and paint. Your Toyota's paint job looks amazing, and you are proud to get behind the wheel.
Toyota Nano Ceramic Coating
Toyota nano ceramic coating provides lasting protection for your car's paint job – and it lasts for years. It protects against harsh weather conditions, prolonged exposure to the sun, harmful UV rays, road grime, contaminants, and more. It's even scratch resistant.
But there's more to it than that, more benefits that you might not expect.
It is easier to keep your car clean
Because of the hydrophobic qualities of ceramic coating water is repelled, but so is mud, dirt, and grime. It will slide off your car instead of sticking to it. This means that you don't have to work as hard to keep your car clean. Just hand wash every two weeks and wipe down your car when it gets dirty between washings. Less work, more shine – can't beat that.
When your paint is protected, so is your car
Ceramic coating has water repellant qualities which means it also repels moisture. While this makes it easier to clean, it also means that it can help to protect your car against rust and other damage that may occur due to high humidity, moisture, and water. What's more, it helps protect the paint against dulling and fading as well as oxidation. It also helps to protect against the "bug guts" chemical damage you can incur on the road.
It improves the aesthetics of your car
Let's just be honest. A good running car is awesome, great gas mileage is fantastic, but at the end of the day, we all care about how our car looks. Yes, a great-looking car is important. There's no feeling like getting behind the wheel of a car that you know is going to dominate the road because it is such a head-turning beauty. And ceramic coating definitely delivers on that. You get a glass like, wet shine that is as durable as it is beautiful. You'll definitely get noticed.
Get a Quote on Coatings for Toyota Today
Are you ready to ceramic coat your Toyota? Let the pros at Bob Moses Ceramic Coating help! We'll coat your Toyota car or truck using our two-step application process to ensure an even, thorough coating with a brilliant shine. Contact us today to learn more or just get your Toyota in here and let's get it that showroom shine.