Mini Cooper Ceramic Coatings
What Is Ceramic Coating?
This innovative technology can help keep your car looking brand new, even if you live in an area that has high levels of road salt during the winter months. It also helps protect against damage caused by everyday elements like bird droppings and bug splatter! Don't wait any longer. With a ceramic coating, you don't need to worry dirt or grime sticking to your paint or acids in nature damaging the finish.
If you're looking for an affordable, durable option, then you should consider a ceramic coating. When you get your Mini Cooper back from being coated with this type of protective solution, you'll be happy with how long it lasts! The coating will last for eight years, depending on your location and whether you take care of it.It also protects against UV rays and rain, so your Mini Cooper won't need any waxing! Set up an appointment with one of our certified technicians at Bob Moses Ceramic Coatings and protect your investment!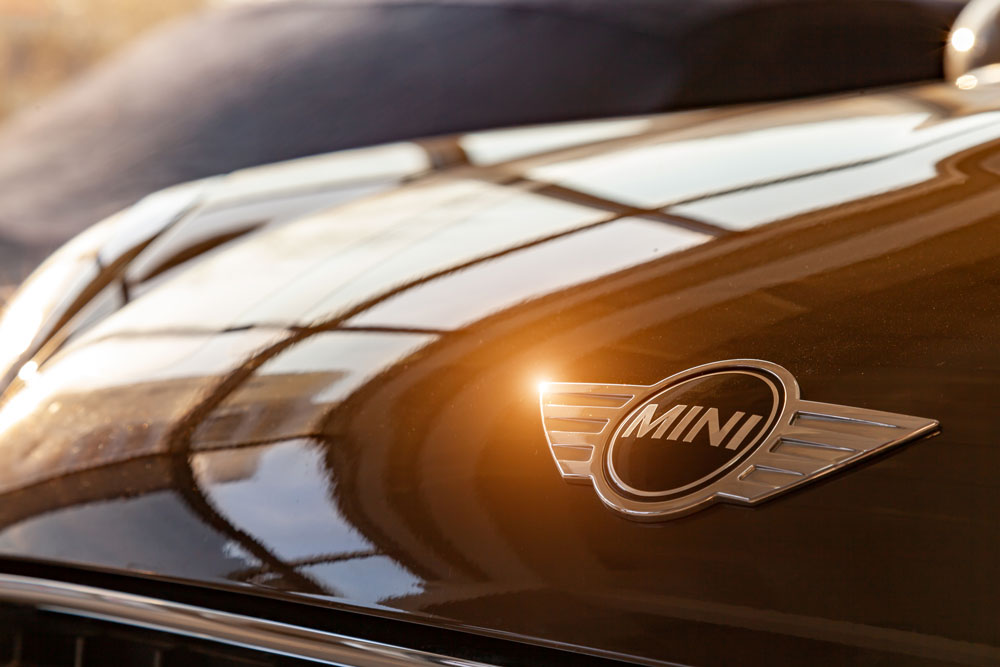 Why Is Sensha World 8-Year Crystal Glow the Best Ceramic Coating?
Sensha World Crystal Glow 8-Year Coating is a Japanese SiO2 (silicon dioxide) glass coating that lasts up to eight years. The glass coating is a single-layered liquid that contains SiO2 particles suspended in a clear resin. It forms into the shape of the surface to which it bonds and hardens.
When the hardening process is complete, your vehicle will have a gloss and shine that makes the paint appear wet. The entire process takes about 72 hours, but the results are worth it! Sensha World 8-Year Crystal Glow will leave your Mini Cooper looking brand new, and you will have UV protection and extreme shine and gloss for up to eight years.
Bob Moses does not simply use Crystal Glow and expect the best results. They are a company expertly trained in how to apply the coating to achieve the most professional appeal, ensuring that you receive the promised protection abilities. Bob Moses Ceramic Coating also owns the rights for Sensha for all of North America and are the only company capable of installing the product.
Why Should I Get Ceramic Coatings for Mini Cooper?
If you own a Mini Cooper, you know that it's a work of art. But did you know that although the paint and clear coat on Mini Cooper vehicles look beautiful when new, it degrades quickly? Often within two to three years, especially in locations like Arizona, Florida, and Nevada. A Mini Cooper Sensha Ceramic Coating is the best form of protection. Here's why auto ceramic coatings are a great idea for your Mini Cooper:
A ceramic coating can increase the lifespan of your vehicle's paint.
Ceramic coatings make your car look stunning! It's an easy, cost-effective way to make your car look better than ever before.
The coating provides an extra layer of protection against oils and dirt that might get onto the surface, as well as other types of corrosion.
How Do I Look After My Mini Cooper Once It Has a Ceramic Coating?
After you have your Mini Cooper ceramic coated, you will want to make sure that you are properly caring for the coating. This means that you will need to wash it regularly.
With proper care, your Mini Cooper Sensha Ceramic Coating will last for years and keep your car looking new. A common question is: how often do I need to get a ceramic coating? It varies depending on where you live, but typically, after eight years of wear, a new protective coating will be needed.
Ceramic coatings are a great way to protect your Mini Cooper from the elements. They create a barrier between the paint and the outside world and can even make washing your car easier. Plus, they can add a brilliant shine to your Mini Cooper's paint. Here are a few things to keep in mind when choosing a ceramic coating for your Mini Cooper:
Is it easy to maintain?
Does it offer excellent protection?
Does the product have supporting data?
Does it have excellent reviews?
Ceramic coating for cars is a great way to protect your Mini Cooper from the elements. It will also make cleaning easier and may even increase the resale value. If you take care of your Mini Cooper, it will take care of you. Protecting your car with a ceramic coating is one of the best ways to do this. You now know that a ceramic coating is the best option for your needs. If you have questions, contact us anytime!