The dazzling shine of a car that is just rolling off the showroom floor can't be beaten. There is just something about it – breathtaking, exciting, beautiful.Unfortunately, that shine doesn't last very long as the world begins a full-scale assault against your vehicle with the weather, road debris, chemicals, and more. Soon it doesn't matter how great the car funs, when people look at it the only thing they will see is the faded paint, the scratches and scuffs, and the patches of missing clear coat.
They will see just a shell of what the car once was at Bob Moses Ceramic Coating.
Ceramic coating can change all that through. When applied professionally, the ceramic coating acts as a barrier between your paint job and all the things in the world that want to destroy it.
It gives your paint a brilliant sheen that is glass-like. It is also scratch-resistant and scuff-resistant.
At Bob Moses Ceramic Coating, we apply ceramic coating to trucks, cars, SUVs, semi-trucks, boats, and jet skis. This saves you time and money.
Getting ceramic coating in Dallas has never been easier. The professionals at Bob Moses are highly trained and skilled at applying the coating so that it is smoother than glass.
Come see for yourself.
Ceramic Coating for Cars
There are three great reasons to ceramic coat your car or SUV:
Ease of Maintenance – Ceramic coating greatly reduces your time washing your car and you don't have to wax which frees up even more of your time. Maintenance is a snap.
UV Protection – Harmful UV rays can wreak havoc on paint and clear coat. The ceramic coating acts as a barrier, protecting your paint job which prevents cracking and fading of your paint and clear coat. This means that your car stays looking better longer.
Extreme Gloss and Shine – If you love a high gloss, glass-like shine, then the ceramic coating is a great choice. Once it is applied, it has a "wet" or glasslike appearance for years. This eliminated the need for a new paint job or for frequent waxing. It saves both time and money.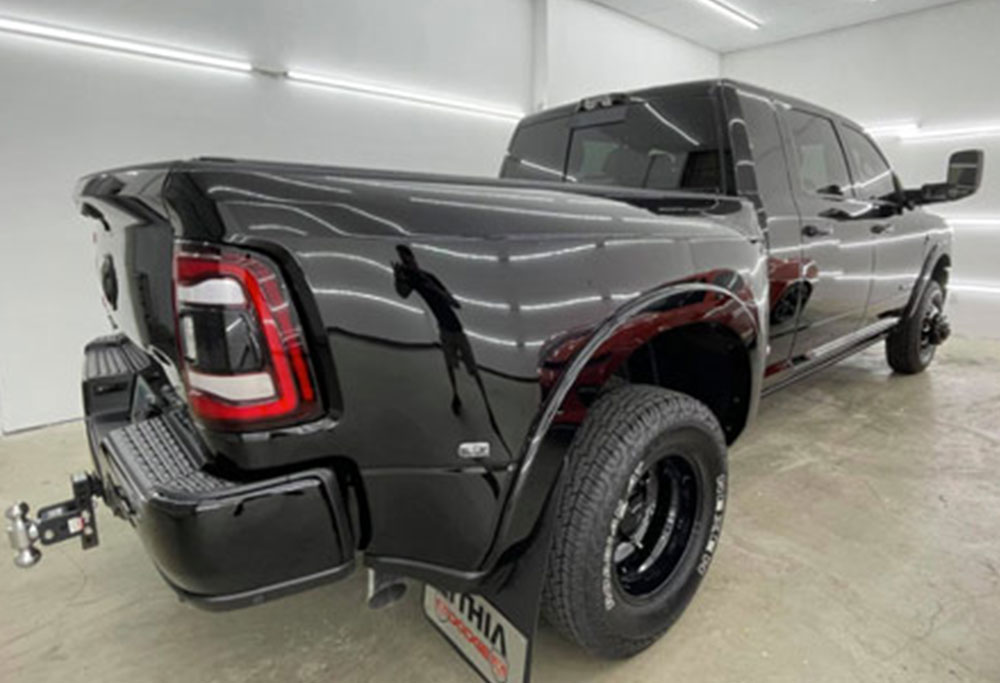 Ceramic Coating for Trucks
Trucks can get some great benefits from ceramic coating. Why pay thousands to have your truck repainted when one application of ceramic coating lasts for years?
Here are some of the top benefits of ceramic coating:
Scratch-resistant – The ceramic coating provides a hardened protective coat between your paint job and the weather, chemicals, debris, and other hazards in the world. The coating is scratch and scuff resistant.
Glossy finish – Of course you want your truck to look good! Ceramic coating gives it a brilliant shine that will get you noticed.
The body won't corrode – Corrosion happens just about anywhere, but it seems to happen more often with a truck. Perhaps it's because they tend to go places that cars don't. Ceramic coating protects the paint and the truck's surface from corrosion to keep it looking newer longer.
Easier to clean – Our ceramic coating is super hydrophobic which means that water just beads right up making it easier for you to clean your truck.
UV protection – Driving in the hot sun, brisk winds, and even some winter weather can take its toll on a vehicle. But the worst is probably the sun. Ceramic coating provides protection against harmful UV rays to prevent fading and cracking.
Ceramic Coating for Semi-Trucks
Most drivers want a good-looking truck, but if you own a trucking company or are an owner-operator, then you know that there's more to it than that.
Let's take a look at the benefits of ceramic coating your semi:
UV protection – The sun's harmful UV rays can lead to fading so that the vibrant colors of your paint job become dull and unexciting. The protective qualities of ceramic coating give you a layer of defense against the harsh rays of the sun which keeps your semi looking like new.
Protect paint job – Painting your semi can be serious work – that's a lot of truck to paint. So, when you find a way to protect your paint job in a way that allows you to eliminate fading and reduce scratches and scuffs, you jump on it. That is what ceramic coating does.
Gives a great first impression – Your truck is a reflection of your business so you want to always put your best foot forward. The high gloss finish of ceramic coating on your semi truck, along with the vibrancy of your paint job, is sure to give a great impression. Now, that's just good PR!
Ceramic Coating for Boats and Jet Skis
Ceramic coating your boat is a genius move for several reasons. Let's take a look at the benefits.
No need for waxing – The high gloss finish of ceramic coating eliminates the need for waxing. Just buff with a soft cloth and you're good to go.
Protects the paint from UV rays – Boats and jet skis tend to get hit much harder by the fading that is caused by UV rays. This is partly because they spend a lot of time on the water and the water magnifies the rays, so they are more intense.
Keeps your boat or jet ski looking better longer – Ceramic coating lasts for years whereas waxing lasts for a few weeks or months. If you want your boat or jet ski to look better longer, then the ceramic coating is the answer.
There are plenty of places to go to get ceramic coating for your car in the Dallas area. But there is only one who ensures excellence and top quality from start to finish. Bob Moses Ceramic Coating can get your vehicle to the showroom sheen that you love without breaking the bank. Contact us and see for yourself. Trust the pros for your car's ceramic coating.
Learn More About Ceramic Coating in Dallas