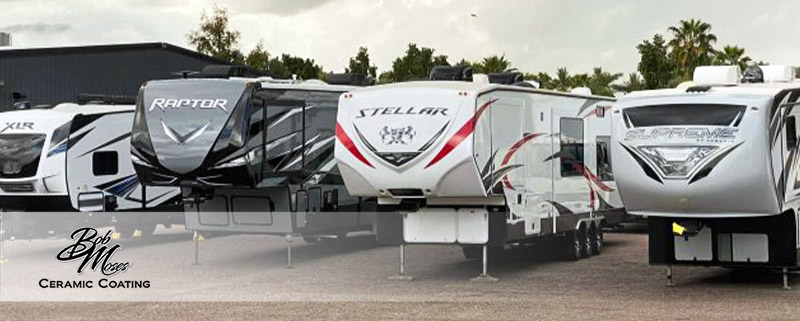 The aesthetics of your vehicle are important. You want it to shine, and you want it to look its best. Unfortunately, UV rays, dirt, and chemicals can have a negative effect on your vehicle's paint job. It's why a protective coating is necessary – and waxing your car every month simply won't offer the kind of protection that you need.
Ceramic coating is gaining a lot of popularity because of the way it is capable of protecting your car long-term. This SiO2 coating bonds with the paint on your vehicle's surface, offering multi-year protection that won't rinse off.
The benefits of ceramic coating your vehicle are numerous, and here at Bob Moses Ceramic Coating, we're excited to talk to you about them.
Protects from Harmful UV Rays. UV rays shine down on the surface of your vehicle as you drive around and when you park it anywhere that is uncovered. The paint can fade over time, which can lead to a dull look, and after extended periods can even begin to peel and deteriorate. The damaging effects of UV rays are more prominent in the Southwest, with cars in New Mexico, Texas, Utah, Arizona, and Nevada displaying these signs of damage much faster than other parts of the country. The ceramic coating shields your car from the damaging effects of these rays, and prevents the paint from oxidizing, which keeps the color looking more vibrant.
Protects from Chemical Stains. All sorts of acidic contaminants are in the air – and if you're driving through busy cities, your vehicle needs all of the protection that it can get. Often, the contaminants will cause the surface of your vehicle to look stained. The ceramic coating prevents these contaminants from bonding with the paint.
Adds Scratch Resistance. Various little scratches can take away the aesthetic of your vehicle. Bushes, brushes with bikes, crowds in parking lots – all of those can cause scratches. A ceramic coating will provide a scratch-resistant finish. This is not to be confused with being scratch-proof. Your car can still be scratched, chipped, or keyed – but it will be a little harder to leave a mark.
Increases Hydrophobic Effects. Washing your car shouldn't be a chore. When you have the coating in place, it creates a more water-repellent surface. All of the water-based dirt and grime will slide off. Often, with just a quick jet wash, your car can look spotless. The added benefit: minimal to no water spots.
Adds a Shiny New Gloss. Often, you do things to your car to enhance the aesthetic. The ceramic coating is capable of completely transforming the paint job on your car. It will add a beautiful gloss that you can't get with even the best waxes on the market. As soon as you wash your car, it will have a radiant gleam that will turn heads so that you can show off your ride in a superior way.
Prevents the Need to Wax. If you have been waxing your vehicle, you know that it is a time-consuming task. You also know that it will only last for a month or two. This means that you may spend a considerable amount of time over the course of the year applying wax to the surface of your vehicle.
Ceramic coating your vehicle eliminates the need to ever wax again. It won't rinse off, so you have more comprehensive protection. In many instances, you can expect the protective barrier to last for up to eight years. Think about how much money and time you'll save by not waxing!
Professional Auto Ceramic Coating Services
When you're ready to realize the benefits of ceramic coating on your own vehicle, call us. We'll provide you with a custom quote and get you scheduled for the professional application.